One of the most exciting trends in the Body of Christ is the growing understanding of the importance of Marketplace Ministry.
Every believer is called to full time ministry but only about 2% will ever make their living as staff for a church. The other 98% have been strategically placed by God in other spheres of society to be "priests and kings," bringing transformation outside the four walls of the Church.
In this MasterClass we will be interacting with a number of amazing leaders who have had significant influence in the Marketplace while still remaining strongly connected to pastors and the local church.
We will focus on how to equip pastors to raise up Marketplace leaders.
This series is designed for both Pastors and Marketplace leaders to foster connection, understanding and partnership for the advancement of God's kingdom in your city and nation.
All sessions will be hosted by Michael Brodeur
Session 1: Mike Frank
Former VP of HR for Walt Disney Company
Senior VP MFS Communications (sold for $14 Billion
Founder of Level3 Communications (it was one of the first backbone networks that the Internet runs on, sold for $35 Billion).
YWAM board member
Global Virtual Studies board member
Chairman of the Hope Center for Kids, Omaha NE
Session 2: Chuck McCallum
President of Keir/Wright Engineering, one of the largest engineering firms in the SF Bay Area.
Pastor Psalm 84 Church, Dublin, California.
Director of Catalyst Business School.
Session 3: Eric Peterson
President-CEO of BIG, Companies Inc, dba Capo Building Specialties, Capo Valley Fireside.
43 years in the Heath Industry.
Grew his Southern California-based company to 11 divisions throughout California and Nevada.
Eric believes "culture trumps strategy"
and alignment with Kingdom principles facilitates long-term business relationships and prosperity.
Session 4: Greg Wallace, JD, MS
Employment Lawyer, 20 yrs at Southern California Edison
COO at Harvest International Ministry
Admin Pastor of HRock Church, Pasadena CA.
Academic Dean at Wagner University.
Strategist for a social impact movement in Aruba,
Organizational effectiveness consultant for both secular companies and ministry organizations.
Law degree from UCLA.
MS Organizational Development from Azusa Pacific University.
Session 5: Stu Glassborow
Founding and Senior Pastor, Catch the Fire London UK
Veterinary Surgeon
Veterinary Surgeon Consultant
Founder of a humanitarian charity organization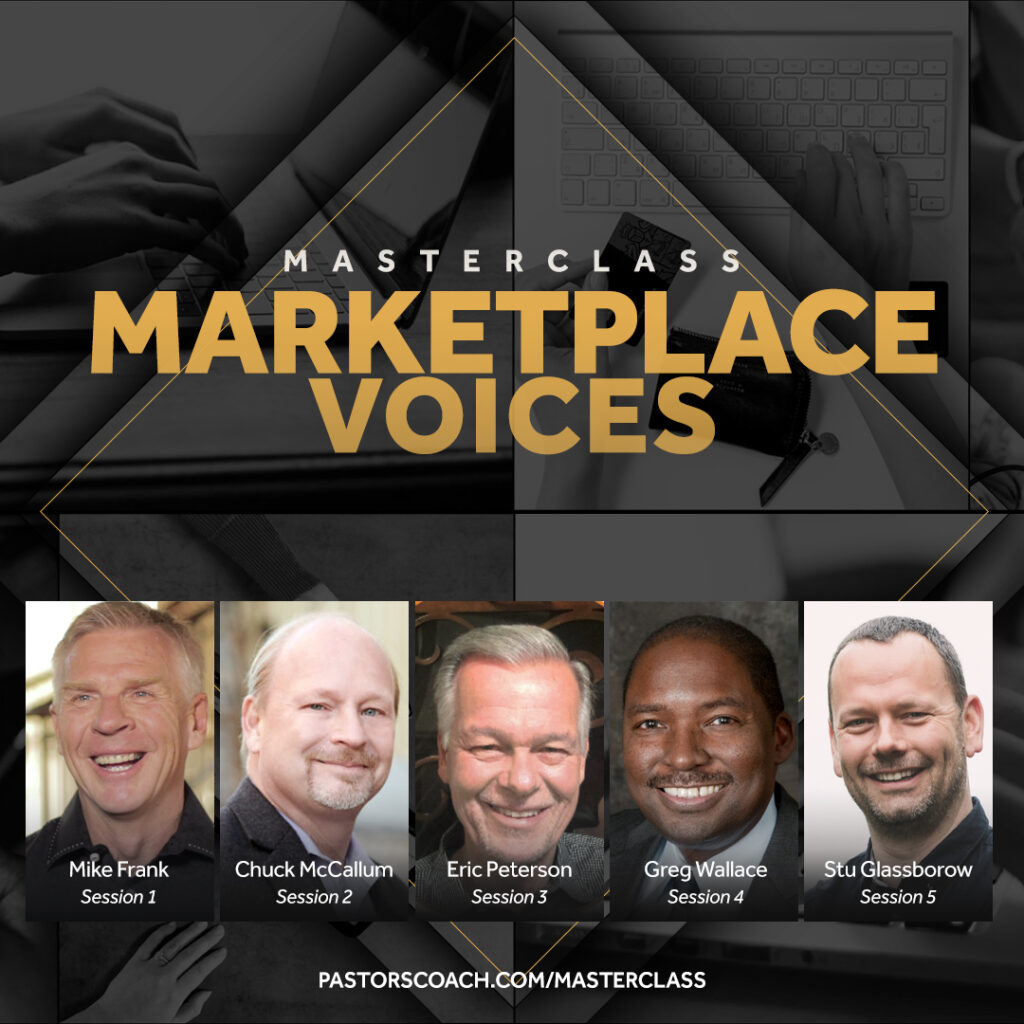 Become a Member and get access to ALL of our MasterClasses
"Pastor's Coach shaped our journey as we prepared to plant a church."
"Any of you that are pastors and want to know how to steward revival in the presence of God in your church make sure you dial in to pastorscoach.com"
"So appreciate Michael Brodeur and his heart to invest in pastors and leaders. One of the best I know. He's made a huge impact on my own life."
"I just can't recommend pastors coach highly enough. It's been an absolute life change for myself personally as a senior leader, but also the things it has helped us to do as a leadership team."
"Michael has a unique ability to connect and relate to the real stuff of life and ministry. How I wish that I had had a mentor or coach like Michael much earlier in my journey."