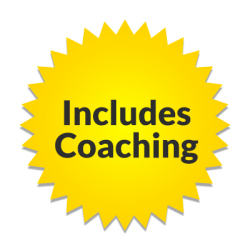 Prophetic Presence
and Power
Masterclass
How to equip and empower every member to connect with God's presence and function in the fullness of the Spirit.
In every corner of the world, God has been awakening the Church to pursue His presence. We need leaders that are sensitive to His voice and equipped to receive direction from the Lord and minister in the power of the Holy Spirit. 
There's some hype and confusion around this topic; Michael Brodeur, the founder and leader of Pastor's Coach will be bringing some solid teaching from the Word and from his extensive experience in ministry, to help leaders do a better job leading ministry that includes the gifts of the Spirit and the presence and power of God.
INSTRUCTOR: Michael Brodeur
WHO should take this class: Pastors and leaders of leaders
WHAT you will get from this class:
• The Prophetic Mandate: Unless the Lord builds the house…
• Prophetic Culture: How to Prioritize the Presence of God
• Prophetic Members: How to Equip Leaders in the Holy Spirit
• Ministry Development: Prophetic Strategies and Structures
WHY: This class will help you understand the Biblical principles of having a prophetic gifting and how they operate within leadership context.
We guarantee you will love this MasterClass… or your money back.
RECORDINGS: Coaching calls are recorded and available online
Ministries we have worked with
Prophetic Presence and Power Master Class includes:
4 Weekly One-Hour Group Coaching Calls
• The Prophetic Mandate: Unless the Lord builds the house…
• Strategic Planning for Prophetic Leaders
• Personal and Leader Development
• Ministry Development for Prophetic Leadership


Start Date: 07/February
End Date: 28/February
Group Video Coaching Calls every Wednesday at 9AM PST (12PM EST)
Michael Brodeur has pastored and mentored pastors for more than 30 years. He planted a church in San Francisco that became the largest church the City had seen in a generation. He has served with Jesus Culture, and he teaches church planting at BSSM. He coaches pastors and leaders around the world. Read full bio
Join today and connect with pastors and leaders from around the world.
This MasterClass is free to Pro and Max members.
Greg Brown - Skyway Church - Phoenix/AZ
"So appreciate Michael Brodeur and his heart to invest in pastors and leaders. One of the best I know. He's made a huge impact on my own life."
"I just can't recommend pastors coach highly enough. It's been an absolute life change for myself personally as a senior leader, but also the things it has helped us to do as a leadership team."